Katie Harris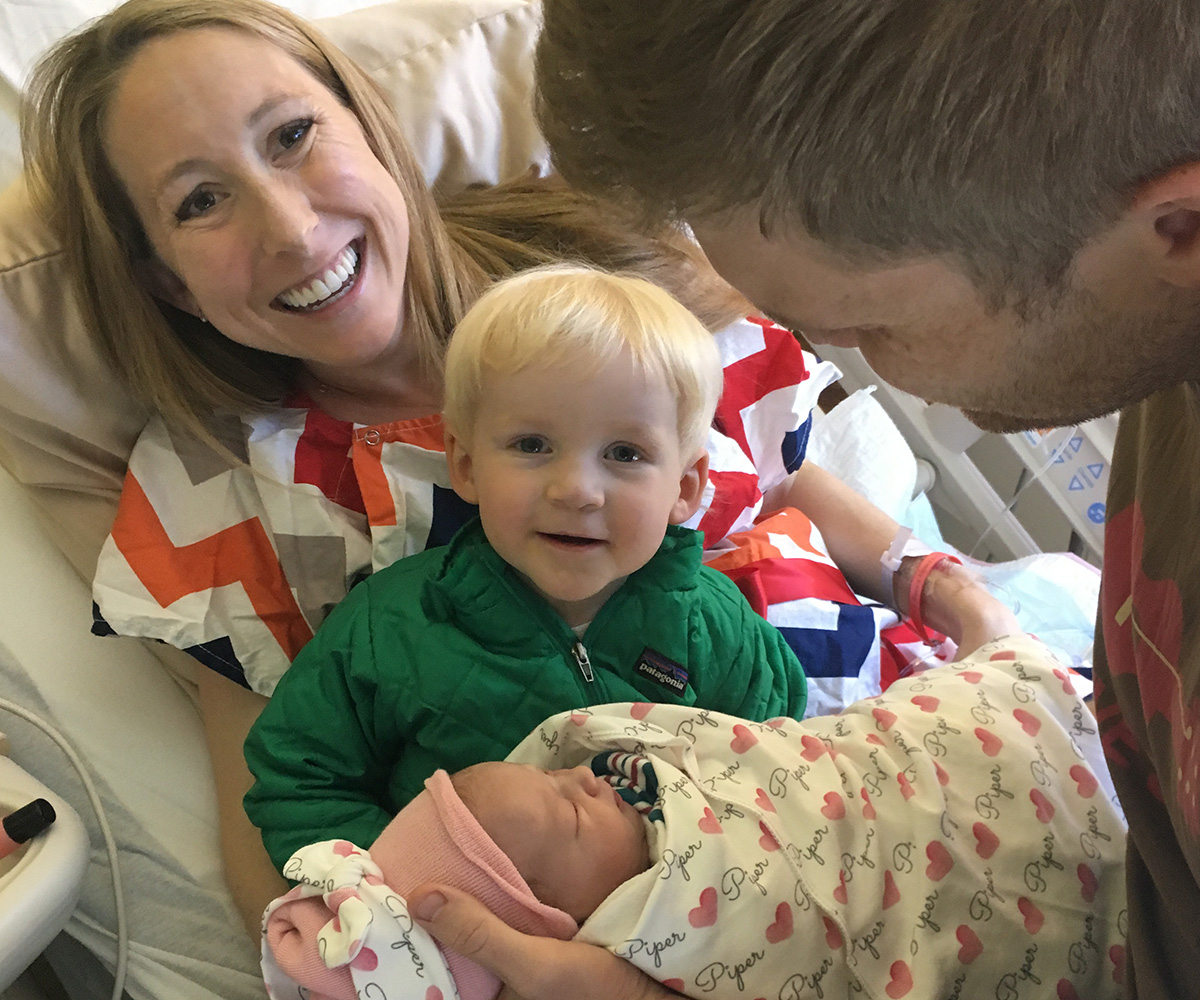 I've given birth to both of my children at PDH - my son, Reid, six years ago and my daughter, Piper, four years ago. When my husband and I found out we were pregnant, there was no question that we would have our baby locally. I said, "It's [Plumas District Hospital] in town, it's right here, we'll definitely do that."
With Reid, Dr. Morgan was my doctor. He's a wonderful doctor and great with pregnancies. This was pre-Covid, and I had multiple friends who had given birth to their kids at PDH. It was so wonderful to have friends and family who would swing by to see us. That's a really special moment together. You have that opportunity in a small hospital like ours versus when you're out of town and you don't have your community right there.
During my first labor, I was getting ready to go teach at Quincy High, and I was feeling a bit slow and lethargic. Still, even though I was a week past my due date, I didn't think much of it. On the way in to school, I started to have contractions, but I thought, "No problem, this could last for days, or it could be Braxton Hicks (false contractions)," so I still wasn't concerned. By second period, though, the contractions were getting pretty close together, and they were getting strong. My principal said, "Go!"
Stacy Kingdon was the intake nurse at the hospital that day. She knows me well, and somehow she knew to say, "I know her, and she's a strong lady. I would check her in right now - don't do all the intake stuff." It turns out, I was already nine centimeters dilated. They called Dr. Morgan, who came in and said, "You're set to go." It was probably an hour from start to finish. Afterwards, I did lose a lot of blood from hemorrhaging, so they called in Dr. Jensen to sew me up.
Dr. Morgan came back in around 9:00 p.m. that night just to check on me and Sean, my husband. Again, that's how it is in this small hospital - for these doctors, it's their community, and their people, and they love them. The care that you get is unbelievable!
Other people I knew, like Karen the pharmacist, and Joey Schad the doctor were there after I delivered, and they were so friendly. It's such an incredible feeling when you're there and you know the nurses and the staff. You're not treated like just another patient. You're an individual who people know, and that is so unique.
For my second baby, Dr. Morgan wasn't delivering babies anymore, so we had Dr. Ali Hunt. We absolutely loved her. Pre-labor, she told me, "As soon as you feel anything, you come in," because the other one was so fast. She gave my husband her cell number and told him to text her when labor started. I remember, it was Sunday and we'd just finished dinner. I was feeling a little tired and a bit crampy. Sean was ready to go. First, I said, "No," and then, "okay."
Kursten O'Donnell was the nurse. She has a son my son's age, and she was so excited. Sean texted Ali, and she watched the contractions online. I was standing there while they were checking me in. I had two contractions, and then I said, "I have to go to the bathroom." But, Sean said, "No, you're not! You're crowning. Let's have the baby."
I don't even remember pushing, just hearing Sean say, "Here comes the baby!" Ali walked in as Sean was catching my daughter. I was still standing up.
Also, it was so wonderful to have my parents right in town so they could come in. With my first, they were right there. And, with my second, they brought Reid in with them.
With both kids, if I had decided to go to Paradise to the birthing center, I'd never have made it. I had my son in 4 hours, 20 minutes, and my daughter in about one and a half hours total. We live eight minutes from the hospital. It's so wonderful to have that option in town. If that's removed, it will be devastating for the community as a whole. It brings so much to our small town. A lot of people have made the conscious decision to move back to our small town. A small community starts at the birth. The doctors and staff are part of their birth story and will be a part of their life for the next eighteen years.
Ali Hunt's kids and mine are close in age. It's a very special, wonderful thing to share their growing up together, a very holistic feeling to have that. I tell my daughter, Piper, "Ali was there at your birth." To have those individuals always a part of it is amazing. Ali told me, "If you ever have a third one, I'll be with you for a couple days ahead of time, because they'll just fly out!"
Back