Celebrating Doctor's week with Dr. Joseph Schad
March-31-2023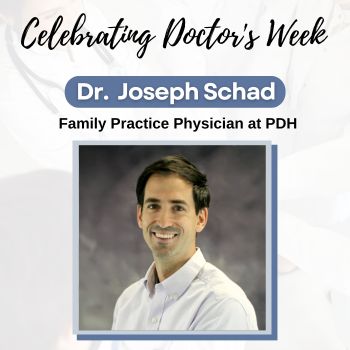 In celebration of Doctor's Week, Plumas District Hospital is sharing interviews that it has conducted with some of its staff members. Following is an interview with Dr. Joseph Schad.
Who are you and what do you do?
"My name is Joseph Schad. I am a 41 year old family practice physician that has 4 young kids, and a perfect wife. We are very busy with kids and we love it."
How did you first hear about Quincy, and Plumas District Hospital?
"You know, it's strange. Karen and I were always looking on the map for rural towns in California to be closer to her family. Quincy was on the map and we were interested in the area. We had never been to Quincy, but it was always on our radar. After residency, we were receiving loads of recruitment emails and Quincy came across on my email but I hadn't seen it. My wife was looking at my email and asked, "Are you planning on going to Quincy?" I'm like, "no, why?" She then mentioned the recruitment email that was open on my computer for family practice physicians at Plumas District Hospital. Once I recalled that Quincy was the town that we had looked at prior to residency, I said, "Oh sweet, well I should do an audition rotation!" So I did two weeks of rotations with Dr. Morgan and Dr. Satterfield in October of 2014. I just fell in love with the area. And here we are."
What initially drew you to provide care in our community?
"I wanted to practice full spectrum family medicine, which is what I was trained to do. I wanted to deliver babies, work in the hospital, do some ER and clinic shifts. I also wanted to live in a small town that had the things that I enjoy: skiing, backcountry, and backpacking. It offered everything that I wanted. My wife is a pharmacist, and at the time the hospital had an opening for a pharmacy. It was perfect."
What are some things that you like or enjoy about living in the Quincy area?
"People know each other here. The feel in Quincy is that people are more cordial and respectful. There is a lot more waving going on than honking. You see people that you know out and about, like when you go to the Town Hall Theatre for a movie. I like that. It's has a sense of true community."
What do you enjoy about working at Plumas District Hospital?

"Being able to do more full spectrum family medicine here gives me more variety than I could do in a big city. Here, you also have the benefit of going and seeing the folks that you treat out in the community. There is an extra connection there. You also have the opportunity to perform home visits. That kind of thing just doesn't really happen in a big city. You would rarely or probably never see your patients out in the real world. Here we are able to offer some extra services for our patients. I work with good folks here at Plumas District Hospital. I enjoy working in both the hospital and the clinic. It helps dial in some of those acute illnesses that you don't always get to see in the clinic setting. I think it makes you a better doctor and it ends up benefiting the patients in the long run."
You are a Doctor of Osteopathy with a special interest in Osteopathic Manipulation. How would you describe what you do to someone who is unfamiliar with the practice? And can you provide an example of a patient that would need to see you?
"In medical school you are taught the basic curriculum of western medicine. That curriculum came with 8 hours of manipulation training in the first two years of medical school. I think the benefit of Osteopathic Manipulation is looking at the musculoskeletal system, and figuring out ways to help the patient find healing without the use of injections and pharmacologic treatment. How can we manipulate the body to help it heal itself?
People are familiar with Chiropractic adjustments, which includes a lot of high velocity techniques such as cracking and popping. On the other side, there are soft tissue techniques, that are low velocity, low energy. For example, you put a patient in a specific body position and then you have them contract a muscle, which can help move a rib or another body part that helps them feel better or reduce muscles spasms. It is about regaining symmetry of the musculoskeletal system in hopes of having better function and less pain, without using more invasive techniques. It has helped me with diagnosing when patients are experiencing body pain."
What do you find challenging in the work that you do?
"Many folks don't want to go and see a specialist. It is challenging, because we will do our best with trying to manage the issue until the patient gets into see the specialist. Then the patient feels that we are doing a good job, and that they no longer need to see the specialist. There are specific things that specialists should be managing. Take A-Fib, Atrial fibrillation, for example. (A-Fib = The most common type of treated heart arrhythmia. An arrhythmia is when the heart beats too slowly, too fast, or in an irregular way.)
It used to be the standard practice that we would administer medications that would slow a patient's heart rate. Now, there are rhythm control medications that patients should be taking, but they need to be seen by specialists prior to receiving them. When patients don't see the specialist, there ends up being a delay in the care that they should be receiving."
What do you find rewarding about your work?
"People are usually grateful that you can help them improve their health. Being able to help people in that way is very personal. It's fun to be a part of that. I also get to know my patients more closely than I would if I worked in a city based clinic. I have more of a relationship with my patients. It makes you slow down and spend more time with them."
Do you have any interesting stories from your time here?
"When I first got here, and I was on call, I got called into the Operating Room twice to assist in one day. Each surgical procedure lasted 2+ hours. It was bizarre. That day I was doing hospital medicine, clinic visits, one of my patients was in labor around that time, and I ended up in the Operating Room for 4 hours. That's "full spectrum" medicine for you."