Senior Life Solutions awarded Program of the Year!
February-16-2023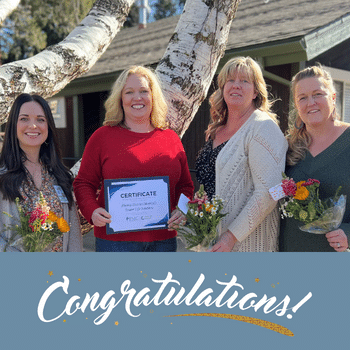 In March of 2021, Plumas District Hospital launched a Senior Life Solutions program to provide mental health support to aging community members in Plumas County.
Plumas District Hospital Senior Life Solutions is managed by Psychiatric Medical Care (PMC), which partners with more than 130 facilities nationwide to provide behavioral healthcare management services. Top-performing employees and Senior Life Solutions programs from around the country are recognized annually based on their excellence in demonstrating the program's values of care, compliance, and community. Award recipients demonstrate outstanding patient care, excellent comprehension and execution of compliance regulations, and strong community engagement. This year, the Senior Life Solutions program at Plumas District Hospital was awarded Program of the Year! This is an incredible accomplishment, as Plumas District Hospital's Senior Life Solutions Program has been established for less than two years.
Ericka Thompson, the director of Plumas District Hospital's Senior Life Solutions program, shares, "Our team is both humbled and honored to be presented with this award. Thank you for recognizing our team's passion and commitment to improving the quality of life for older adults in this community. We love what we do and the community we serve, and we appreciate the support from our fantastic team here at Plumas District Hospital!"
JoDee Read, CEO of Plumas District Hospital, expressed her gratitude to the Senior Life Solutions team. "Being recognized as Program of the Year is the highest honor. It is because of the efforts of Ericka, Kristie, and Wendy leading this program that we are able to deliver outstanding care to underserved members of our community. I continue to be inspired by our ability to make a difference for our patients."
Plumas District Hospital Senior Life Solutions department is an intensive outpatient group therapy program designed to meet the unique needs of adults, typically 65 years of age and older struggling with symptoms of depression and anxiety often related to aging. For more information about Senior Life Solutions, call 530-283-7131.
(Photo of PDH's Senior Life Solutions Team. From Left to Right: Ericka Thompson RN (Program Director), JoDee Read CEO, Wendy Ferguson (Office Patient Coordinator), Kristie Rood LCSW (California Licensed Clinical Social Worker).