SAVE THE DATE! 2023 Health Fairs
March-22-2023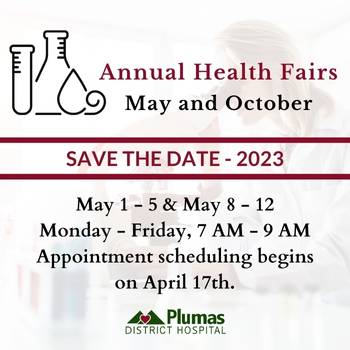 LOW COST HEALTH SCREENING OFFERED DURING THE FIRST TWO WEEKS OF MAY & OCTOBER. SAVE THE DATE.
Plumas District Hospital will continue to offer its annual Low-Cost Health Screening during the first two weeks of May and October. Please see the following points below regarding the event.
1) Appointments are necessary. Registrations will open on April 17th.
2) Lab draws will take place in the hospital laboratory.
3) Appointments are available in the mornings, Monday–Friday, 7AM - 9AM.
4) The health fairs will be held during the first two weeks of May and October. May 1 - May 5, May 8 - May 12 ; and October 2 - October 6, October 9 - October 13, respectively.
Please note that walk-ins will not be accepted.
In line with past years, the health care package costs $75, payable by cash or check on the day of the event. Insurance will not be billed. Testing includes: Complete Blood Count, Comprehensive Metabolic Panel, Thyroid Stimulating Hormone, and Lipid Panel.

For an additional charge, Hemoglobin A1C for diabetes screening, and prostate cancer screenings (PSA) will be available.
Cash, Check, and Card will be accepted.
Participants will receive results through their patient portal, accessible from www.pdh.org. Participants who do not have a PDH patient portal account will be issued an invitation on the day of their appointment.
Participants must not eat for 12 hours prior to the blood draw. Continue normal intake of water and take any medication as usual.