Large Parking Lot Construction Underway at PDH
July-19-2022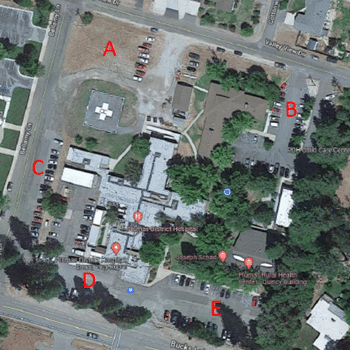 Attention community members! Please see the letter below regarding the parking lot project that is beginning at Plumas District Hospital. Please note that as of Thursday, July 21st, the North Fork Parking lots will not be accessible for parking (Section B in the attached map). The Main Hospital parking lot and The Church of Jesus Christ of Latter-day Saints parking lot will be available during this time for patients to park in.
---------------
"The parking lot project is set to begin today (Tuesday, 7/19). We will work hard to communicate often with our community in as much detail as we can provide. This project is massive and will be disruptive to our normal operations for staff and patients. In the end, we will have a much safer parking lot- free of tripping hazards; drainage systems that will prevent localized flooding; ADA compliant parking spots. We will have around 55 new parking spots as well! We thank you, our community members, patients, and staff for your continued patience during this process.
The construction crew will start on Valley View Drive north of the North Fork Building. Half of the North Fork parking lot along the east end, nearest the creek, will be removed on Wednesday (7/20) and the remainder of the lot on Thursday (7/21).
The attached map shows the areas of work broken down in five sections (A – E). Generally speaking, area B will be the first part of the project completed. It is projected that area B will be completed by Monday, August 15. The main hospital parking lot (Areas D & E) are expected to be completed near the end of the project. We will continue to provide updates and detailed parking instructions as timelines are modified.
This project is paid for by our hospital bond and not from operations. We greatly appreciate the support from our community for this."
Sincerely,
Darren Beatty, COO