April-24-2023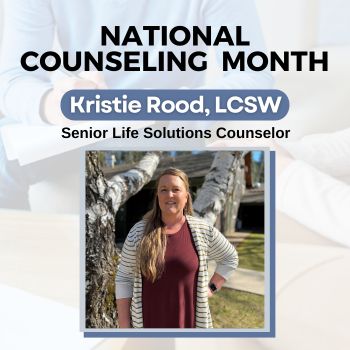 Counseling Awareness Month is celebrated every April. On top of raising awareness and promoting the importance of mental health to people of all ages; it also highlights the importance of counseling professionals — from mental health counselors, school and college counselors, substance abuse counselors, to career counselors. Today, Plumas District Hospital is celebrating our own Counselor, Kristie Rood LCSW, and the work that she does for our Senior Life Solutions program.

Who are you and what do you do at Plumas District Hospital?
I'm Kristie Rood. Right now, I am providing group and individual therapy for patients in the Senior Life Solutions program. I started in behavioral health and have been doing therapy for the past 10 years.
How did you first hear about Quincy, and Plumas District Hospital?
We did not even know about Quincy. We moved here when my husband got placed here in October of 2012, through his work. We thought it was just going to be a pit stop, but we ended up falling in love with the community. It is absolutely beautiful. You can't find a more beautiful place to live. It's a great place to raise kids. I initially learned about Plumas District Hospital through taking my family here for care. Through the years I have had interactions with PDH professionally. When the Senior Life Solutions program started, Ericka came and did a presentation at the drop in center, where I was working for behavioral health. Later on, the therapist position became available and the rest is history.

What is something that you like about the Quincy area?
I love that we actually have seasons here. It seems less accurate this year, with all of the winter. I am officially over the winter this year. However, I do love how we have a winter, summer, fall and spring. We came from Lincoln and grew up in Eldorado county. Usually, you get some rain in winter. You don't really get to experience full seasons there. It is just beautiful. There are also tons of things to do outdoors all throughout the year.
How do you start working in counseling?

I had always worked in health and human services type jobs so I knew that's where I wanted to go. I wanted to get my foot in the door locally, so I started in social services. I was fortunate enough to have a few counselors that encouraged me and mentored me to pursue counseling. Shortly after that I began working for behavioral health. That is what led me to the counseling realm. Chico state does a really cool distance learning program for rural communities in remote areas. I was able to complete my masters through that program.

Your practice is in counseling and therapy. How would you describe what you do to someone who is unfamiliar with the practice? Who should go and see a counselor/therapist?
This is something that comes up a lot. Unfortunately, there is still a lot of stigma around mental health services. I think that it has gotten a lot better, but we still have a ways to go. In my personal opinion, I think everyone could benefit from therapy. No matter what stage of life you are in, you are going to experience stressors. Everyone can benefit from speaking with someone who is unbiased, supportive and can help you uncover your strengths. To sum things up, counseling is helping people uncover their own strengths and learn new skills that will help them deal with the challenges that come up in life.
What makes a therapist or counselor an ideal candidate for people to speak to? How is it different from confiding in a friend or a close sibling?
I think it is super beneficial to have these conversations with friends and family. However, the reality is that a lot of people are not going to dive into really vulnerable topics with friends and family. There is usually a fear of judgment, or even guilt and shame in regards to the things that you are dealing with. Because this stigma around mental health still exists, people are fearful of being labeled as someone who is depressed or anxious, or any other diagnosis. This is where our training comes into play. I think by having a therapist who they know is familiar and educated in these fields, they feel more comfortable to come in and talk about these topics with me than maybe anyone else. It is a unique, personal resource for people. It is not a one size fits all. Therapists have their own personalities and skill sets and so do patients. This comes into play and can actually discourage people from getting therapy. They meet with a therapist and they don't get along. Often times there are personality conflicts, and most of the time there is a better fit out there. Sometimes you need to shop around.
Out of all the disciplines in behavioral health, what made you choose to be a Counselor?
I love working with people. Out of all the jobs I've done, counseling was the most supportive and encouraging of people being self-sufficient and getting to a place where they can improve their own lives. I really love the challenge of being able to work with someone in that regard. I also value that someone was vulnerable enough to share intimate details about their live. I feel privileged to be a part of that process. It really is a unique, and professional relationship that you build with someone.
What do you find challenging in the work that you do?
In my opinion, a really good therapist is good at establishing healthy boundaries. That is a challenge. If boundaries aren't set, then attachment can occur. This can cause a patient to be in therapy longer than they ideally should. Setting boundaries can show them that it's okay to have someone present in their life for a season, and it's okay when that person is no longer present.
Another challenge is that people can be unpredictable, especially if they are navigating a mental illness. It is also what I love about this work. It is never dull. It is always unique. You end up riding these ups and downs with them. If you have someone that is really struggling it can be challenging. But, when they start to do well, it is so rewarding to watch them make that personal improvement and try to do better in their life.
It is also a constantly changing field. It is relatively new so there is always an influx of new information and research to stay up to date with. I had a mentor at behavioral health that told me "a sign of the best therapists are the ones that are always willing to keep learning." I have really tried to take that to heart. It is a challenge, but it really keeps it interesting.
What do you find rewarding about your work as a counselor?
Seeing patients improve is the ultimate reward. Even if they don't meet their goals, the fact that they took the time and found the courage to make a change is rewarding. It is amazing to see someone make that effort with me. Just being able to be a part of someone's life in this way is special. I do not take it for granted.